MISSION STATEMENT
Our mission is to provide services of the painting and decorating industry to the fullest extent of our technological abilities at a fair and reasonable price to all clients.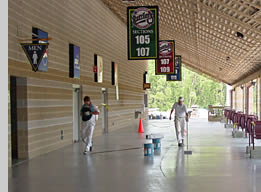 COMPANY HISTORY
Dennis Rucinsky (owner) started in the "Painting & Decorating" field in the mid to early 70s and in 1977 took an apprenticeship position with a very well-known and respected company in Oshkosh, Wisconsin. After working many years as a journeyman at this company, Dennis left to take a management position and start up a satellite shop in Oshkosh for a company out of Madison. After a short time there, Denny decided to go out on his own and formed "Rucinsky's Painting & Decorating" in the summer of 1992-running the business out of his home.
Over the course of the next year, the foundation of Rucinsky's Painting was laid as Jon Rucinsky and Karl Robertson joined the team. As reputation and business increased, it became apparent to Denny that he needed to have a full time business manager. He realized he could not do everything that was needed to efficiently run his business. As a result, Tom Beacham was hired fresh out of college (University of Wisconsin - Oshkosh, BBA Finance) in February of 1994.
Soon thereafter, a decision was made to move the business out of his home and Rucinsky's moved to a very small shop on 7th Street. Before a year's time had passed, Rucinsky's had also out grown this location. It was in the fall of 1994 when the shop was moved to 738 B North Main Street.
As of May 30, 1997 Rucinsky's has moved to its present location at 3680 N. Main Street in Oshkosh. Once again, the company had outgrown yet another shop. With room for expansion, the new location hopes to be our final and permanent "home".
SAFETY
Rucinsky's takes safety very seriously. To ensure a safe workplace for all employees, we hold weekly safety meetings, have a fully executed Hazcom Program, and provide personal protective safety equipment to all employees. Our worker's compensation modification rate is very low .79 and we have never had a lost-time injury since we began our business in 1992.